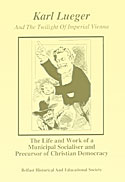 Name: Karl Lueger And The Twilight Of Imperial Vienna
Subtitle: The Life And Work Of A Municipal Socialist And Precursor Of Christian Democracy
Author:
Editor: Clifford, Angela
Category: German-Irish Collection
Publisher: Belfast Historical & Educational Society
Published: 2002
ISBN: 1 872078 07 9
Contents: Karl Lueger's achievements were unique. He discredited the Austrian Free Marketeers in the closing decades of the 19th century, built a popular base for himself, established a new kind of European politics, and modernised and socialised the City of Vienna in his years as Mayor, 1897 to 1910 (when he died). Yet he is hardly known outside Austria. The reason for this is that after 1945 he was travestied into a forerunner of Adolf Hitler by slipshod historians and propagandists of the victorious powers. In fact Hitler, who lived in Vienna during his Mayoralty, admired him as a social reformer but rejected his social philosophy because it was not racist. It would be as reasonable to represent the influential British economist, J. M. Keynes, as Hitler's forerunner on the ground that Keynes's economic theories were first put into effect in Nazi Germany. When Nazi Germany took over Austria, Lueger's successors in the leadership of the Christian Social party, which he founded, were arrested and sent to Concentration Camps along with the leaders of the Social Democracy. In the generation after the Second World War the stability of Western Europe was chiefly the work of the Christian Democracy, of which Lueger's Christian Social movement was the pioneer. This book, composed of extracts from a number of biographies of Lueger translated by Philip O'Connor, seeks to introduce Mayor Lueger to the English-speaking world—which has plenty to learn about community politics. An introduction by Angela Clifford takes up perceptions of Lueger in the context of her own Viennese and Palestinian background, and Councillor Mark Langhammer—who also has links with a lost Middle Europe—supplies a Preface.
Extracts: No extra online material at this time.
Errata: No errata available at this time.
Price: £8.00
Postage Option: We are able to deliver free to shipping addresses within the United Kingdom and Ireland. To the rest of the world we deliver by Airmail, for which there is a charge. Please indicate below which postage option you require. Please take your time and be sure to choose the correct option. This will save both time and trouble.
Add To Cart:
View Cart: