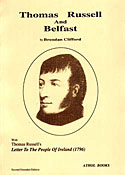 Name: Thomas Russell And Belfast
Subtitle:
Author: Clifford, Brendan
Editor:
Category: United Irish Collection
Publisher: Athol Books
Published: 1997
ISBN: 0 85034 080 2
Contents: This book constructs a history of Belfast from its foundation to the 1790s, as the setting for a biography of the remarkable outsider who played a leading part in its affairs during the United Irish decade. Thomas Russell, "The Man From God-Knows-Where", was vividly remembered in Belfast until the middle of the 19th century. The onset of the religious-nationalist conflict, which has preoccupied the city ever since that time, caused him to be forgotten, because he did not fit the categories of either side. And that is a very good reason why he should now be rediscovered. Brendan Clifford bring the Belfast of the 1790s alive by use of the columns of the "Northern Star", and by use of Russell's public and private writings—including his hitherto unpublished Jotters. It includes Russell's "Letter To The People Of Ireland" (1796), and parts of his "Lion Of Old England" satire, from the United Irish paper the Northern Star. This Second Edition, revised and extended, includes previously unpublished material from the Correspondence between William Drennan, who is sometimes described as the founder of the United Irishmen, and his sister, Martha M'Tier, concerning the consequences of Russell's participation in Robert Emmett's Rebellion; and also a Gaelic Elegy, published in Belfast, on Russell's earliest colleague there, Dr. James MacDonnell of the Glens. 124 pp. Illustrated. Index.
Extracts: No extra online material at this time.
Errata: No errata available at this time.
Price: £10.00
Postage Option: We are able to deliver free to shipping addresses within the United Kingdom and Ireland. To the rest of the world we deliver by Airmail, for which there is a charge. Please indicate below which postage option you require. Please take your time and be sure to choose the correct option. This will save both time and trouble.
Add To Cart:
View Cart: