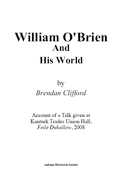 Name: William O'Brien And His World
Subtitle:
Author: Clifford, Brendan
Editor:
Category: Irish Collection
Publisher: Aubane Historical Society
Published: 2010
ISBN: 978-1-903497-64-7
Contents: Account of a Talk given at Kanturk Trades Union Hall, Feile Duhallow, 2008.

The difficulty in saying something about William O'Brien lies in knowing what is generally known about him. And, if little or nothing is generally known about him, to know how much is known about the world in which he lived and acted, as a context in which he might be presented.
.
My impression was that he was a forgotten figure, even amongst historians in the Universities, and that mention of his name was likely to bring to mind another man of the same name, William O'Brien, James Connolly's associate who built the Transport Union into a mass organisation during the years after Connolly was killed. But if our William O'Brien was remembered anywhere, it should be in North Cork—in Mallow where he was born, and in Kanturk where the independent, Anti-Redmondist national movement which he launched had its source in Land and Labour.
Extracts: No online extracts available at this time.
Errata: No online errata available at this time.
Price: £5.00
Postage Option: It is not possible for us to trade using only one postage rate. We are able to deliver free to shipping addresses within the United Kingdom and Ireland. To the rest of the world we deliver by Airmail. Please indicate below which postage option you require. Please take your time and be sure to choose the correct option. This will save both time and trouble.
Add To Cart:
View Cart: