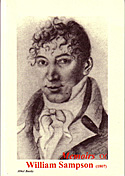 Name: Memoirs Of William Sampson
Subtitle:
Author: Sampson, William
Editor: Robinson, Kenneth
Category: Irish Collection
Publisher: Athol Books
Published: 2007
ISBN: 978 085034 117 1
Contents: William Sampson was one of the United Irishmen who was singled out for ill-treatment by the authorities, with the malevolence continuing even after he was sent into exile. What earned him the particular hatred of the ruling junta was that, unlike most of the other Northern United Irishmen, he was of themselves: from an Ascendancy family, an Attorney at Law, Church of Ireland, well-to-do, and, as he says, "the road to advancement open". But, instead of climbing the ladder to legal eminence, he used his brilliant talents to undermine the oppressive regime: writing and petitioning for constitutional government, and defending United Irishmen in court. He was driven to such "sedition" by the manner in which Ireland was being ruled by a "terrorist Parliament".

In this book, having told the story of his confinement, exile and further confinements, Sampson writes a History of Ireland, concluding "for six hundred years and more…we have seen our country exposed to never ceasing torments, and struggling against oppressions as cruel as absurd". In this, brief accounts are given of the Irish policies of various Kings who, after the Reformation, are described as "Popes" on the English throne. The story is brought up to his own times, with vivid instances of how the military beat the population down into submission.

This is not a dispassionate Memoir or academic History. It is a story, strongly located in time and place—one which is told with the simple objective of furthering the cause of reform in Ireland. But it is a story, above all, and all sorts of weird and wonderful things turn up in it: the 'Ancient Britons' of Wales, who were 'jumpers'; Portugese prison life; revolutionary local government in France; and even a vignette of the special position of women in French social life.

All the more surprising, therefore, that William Sampson's Memoirs have not been kept in print. The present complete reprint is introduced and annotated by Kenneth Robinson. It is based on the second, extended, edition of 1817 and the republication marks the bicentary of the Memoirs.
Extracts: No extracts available at present.
Errata: No errata available at present.
Price: £20.00
Postage Option: We are able to deliver free to shipping addresses within the United Kingdom and Ireland. To the rest of the world we deliver by Airmail, for which there is a charge. Please indicate below which postage option you require. Please take your time and be sure to choose the correct option. This will save both time and trouble.
Add To Cart:
View Cart: