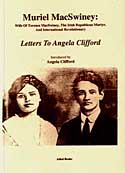 Name: Muriel MacSwiney
Subtitle: Letters To Angela Clifford
Author: Clifford, Angela
Editor:
Category: Irish Collection
Publisher: Athol Books
Published: 1996
ISBN: 0 85034 00 76
Contents: This book is about Muriel McSwiney—not Mary. The wife—not the sister?of the Republican Martyr who died after two-and-a-half months on Hunger Strike in 1920. Terence knew he had a revolutionary destiny to fulfil and was not going to marry—that is, until he met Muriel Frances Murphy, a beautiful Cork heiress who was ardently concerned about social injustice and who believed Irish freedom would bring social justice along with independence. Muriel gave her husband a brief measure of personal happiness during their three years together, as well as doing what she could to further the national cause. When the time of the grim test came, though she had been in poor health, she was the perfect helpmate, sitting quietly by his bedside daily, attending at the offices of the Self-Determination League to give bulletins on his health, smiling for reporters, keeping calm throughout. She did not physically collapse till right at the end. Muriel went on to live for another sixty years after that fateful episode. This book attempts to trace her subsequent life: her work against the Treaty, espousal of Jim Larkin's Communist Party and the Continental revolutionary movement, and political committment to the oppressed the world over. Muriel's politics after 1923 were not to the satisfaction of Catholic-nationalist Ireland. There was one child of the marriage, Máire. She was kidnapped from Germany by Mary MacSwiney, and brought to Ireland, where the deed was ratified by the courts. This severe blow nearly killed Muriel, but she pulled through and went on working for the causes she believed in. The last of these was the housing agitation led by Dennis Dennehy, whose Hunger Strike caught her attention, coinciding as it did with the 50th anniversary celebrations of the sitting of the First Dail in early 1969. It was that social agitation which occasioned the unique feature of this book, the letters written by Muriel to Angela Clifford in the following few years. These letters fill out Muriel's public profile, and reveal her as a progressive well ahead of her time. Ireland is now catching up on her world-view. Perhaps this book will help to get her the acknowledgement she deserves, and give her her rightful place in the inclusive Ireland which is the current aspiration. 168 pp. Bibliography. Index.
Extracts: No extra online material at this time.
Errata: No errata available at this time.
Price: £12.00
Postage Option: We are able to deliver free to shipping addresses within the United Kingdom and Ireland. To the rest of the world we deliver by Airmail, for which there is a charge. Please indicate below which postage option you require. Please take your time and be sure to choose the correct option. This will save both time and trouble.
Add To Cart:
View Cart: