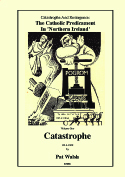 Name: The Catholic Predicament In Northern Ireland
Subtitle: Volume One: Catastrophe. 1914-1968
Author: Walsh, Pat
Editor:
Category: Northern Ireland Collection
Publisher: Belfast Historical & Educational Society
Published: 2014
ISBN: 978-1-872078-20-5
Contents: 'Catastrophe' is the first volume of a two part study of the Catholic Political Predicament in 'Northern Ireland'. It traces the predicament that the Nationalists of the Six Counties faced after suffering the disaster in 1920-1 of being forced to endure life in the perverse political entity that became known as 'Northern Ireland'. That devious construction of the Westminster Parliament was made for Imperial purposes, to serve as a political instrument that had nothing to do with the 'Better Government of Ireland' or its people. Before 'Northern Ireland' was called into existence, Joe Devlin and his community looked forward to a future in a self-governing Ireland within the Empire, as promised by the British Liberal Government. But that future was aborted—despite the great sacrifice made by the Northern Catholics in Britain's Great War for 'small nations' and 'self-determination'—after Unionism brought force into politics and won for its supporters in Ulster a territory under a pseudo-state, disconnected from the State within which Devlin had been a rising force. That pseudo-state, with its simulacrum Parliament, represented a false-front for the British State that remained in Ireland after the Irish democracy had asserted itself between 1918 and 1921. It involved the large Catholic minority playing the part of a permanently subdued community, policed by the majority community that had prevented it from achieving its historic destiny. And even Michael Collins could not save it from this awful nightmare. The Northern Catholics not only suffered Partition in 1920-1, being cut off from the rest of the Irish Nation, which entered a new phase of development without them, but they were also separated from the UK state and its functional political structures. They were, therefore, trapped in a political limbo between states, with no means of escape. And, as this book shows, their escape attempts were barred not only by the British State that had consigned them to this political quarantine but also by their brethren in the Irish State and its major party, Fianna Fail. This was an impossible predicament within a deeply dysfunctional arrangement that was bound to end in tears for all concerned. And indeed it did, in August 1969, after the Nationalists had engaged in the Sean Lemass fantasy that they could improve their position by playing "Her Majesty's Loyal Opposition" in Stormont.
Extracts: There are no extracts at this time.
Errata: There are no errata at this time.
Price: £20.00
Postage Option: It is not possible for us to trade using only one postage rate. We are able to deliver free to shipping addresses within the United Kingdom and Ireland. To the rest of the world we deliver by Air Mail. Please indicate below which postage option you require. Please take your time and be sure to choose the correct option. This will save both time and trouble.
Add To Cart:
View Cart: