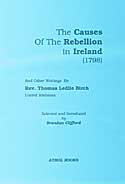 Name: The Causes Of The Rebellion In Ireland
Subtitle: And Other Writings
Author: Birch, Ledlie
Editor: Clifford, Brendan
Category: United Ireland Collection
Publisher: Athol Books
Published: 1991
ISBN: 0 85034 046 2
Contents: "The Causes Of The Rebellion In Ireland" was written in the late summer of 1798. The author, Thomas Ledlie Birch, Presbyterian minister at Saintfield, Co. Down, for twenty years, was tried by Courtmartial in June 1798 on a charge of having taken part in the Rebellion. Because of his able defence, his sentence was the mild one of exile to America. "The Causes Of The Rebellion" was written either en route to America or immediately on landing there. It was first published in America, and was immediately reprinted in London. It was one of a kind—a book by a leading light of the United Irish movement, written soon after he had escaped hanging, at a moment when the Rebellion had not yet been quite suppressed and a political settlement through an abolition of the Ascendancy Parliament had not yet been proposed. It reviews the political history of Ireland since the achievement of legislative independence by the Ascendancy Parliament in 1782. And it concludes that the probable outcome of the events of 1798 would be a military despotism. Brendan Clifford, in his introduction, argues that only the Act of Union warded off a government of military despotism. Also included is the full text of Birch's pamphlet, "Physicians Languishing Under Disease", directed against the movement within Presbyterianism known as the Seceders. This movement was the forerunner of the apolitical development which became influential in later generations. All political movements must try to locate themselves in history. Birch's "Address To The Synod Of Ulster" in 1793, of which a substantial extract is given here, was in tune with the general United Irish orientation. The fact that the familiar landmarks of half a century have been uprooted in this bicentenary year of the formation of the United Irishmen may enable the reader to envisage the historical conceptions of the United Irishmen more easily than they might have done a couple of years ago. Extracts from the "Letter From Saintfield", which Birch contributed to the United Irish paper, "The Northern Star", round out this selection. Publication of this book completes the trilogy of reprints from the writings of the United Irishmen of Antrim and Down. The others are "Scripture Politics" by the Rev. William Steel Dickson, Minister at Portaferry and reputed United Irish General for Co. Down; and "Billy Bluff and The Squire", by James Porter, Minister at Greyabbey, who was hanged in 1798. 112 pp.
Extracts: No extra online material at this time.
Errata: No errata available at this time.
Price: £8.00
Postage Option: We are able to deliver free to shipping addresses within the United Kingdom and Ireland. To the rest of the world we deliver by Airmail, for which there is a charge. Please indicate below which postage option you require. Please take your time and be sure to choose the correct option. This will save both time and trouble.
Add To Cart:
View Cart: