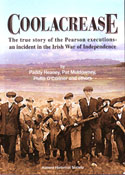 Name: Coolacrease
Subtitle: The true story of the Pearson executions:—an incident in the Irish War of Independence
Author: Heaney, Paddy, Muldowney, Pat, O'Connor, Philip
Editor:
Category: Irish Collection
Publisher: Aubane Historical Society
Published: 2008
ISBN: 978-1-903497-48-7
Contents: COOLACREASE: A Shocking Story

At the end of the Irish War of Independence, two brothers were shot in Coolacrease, Co. Offaly, and their house was burned.

The people who carried out the shootings were not Irish rebels or uninvolved civilians. They were loyalist Protestants who had chosen to take up arms against the forces of the democratically elected Irish government. The IRA command ordered their execution.

So what is shocking about the deaths of these two men, in comparison with the hundreds of other deaths in the war waged by the British Imperial Government against the Irish democracy?

These events were practically unkown until 2007 when the Irish national broadcasting agency RTE produced a television documentary which portrayed the executions of the Pearson brothers as a sectarian anti-Protestant atrocity in furtherance of a land grab, as part of an ethnic cleansing drive by the Irish Republican movement against an ethnic minority in Ireland.

RTE claimed that their case was based on official evidence in documents of the Irish Land Commission.

…and now comes the really shocking part

RTE could not produce the documents they claimed proved their case, and the Land Commission denies that the programme ever examined the records of the division of the Pearson farm. The case presented by RTE is nothing but spurious atrocity propaganda, a travesty of what really happened.

The documentary record is presented in this book, which tells the true story of these tragic events.

This is a shocking story of low standards and cheap propaganda.
Extracts: No online extracts available at present.
Errata: No online errata at present.
Price: £25.00
Postage Option: We are able to deliver free to shipping addresses within the United Kingdom and Ireland. To the rest of the world we deliver by Airmail, for which there is a charge. Please indicate below which postage option you require. Please take your time and be sure to choose the correct option. This will save both time and trouble.
Add To Cart:
View Cart: